TeamVivida Ambassadors
TeamVivida are the role models within the ever growing global Vivida Lifestyle community. Being an ambassador means personifying and encapsulating the Vivida values and Vivida concept. Our inspiring and passion TeamVivida ambassadors hold the Vivida flag high while inspiring and supporting their followers and micro communities.
AMBASSADORS
As leaders of the Vivida Lifestyle community, TeamVivida is made up of our visionaries, pro-team, and ambassadors. Together we form a strong tribe of adventurers, dreamers, thinkers and doers that personify the Vivida Lifestyle. Integral to where Vivida is now and where Vivida is going tomorrow. Spreading the word and driving the ethos and the project forward, both behind the scenes and out there in the action.
Their passions range from yoga wellness & fitness, extreme sports, music, adventure, art and the lifestyles. Vivida ambassadors represent the Vivida Lifestyle through their passions, adventures and personalities. They personify the Vivida Lifestyle ethos, philosophy, outlook; they love what they do and do what they love. They are defenders of fun and inspire one another to pursue their passions and to inject love, kindness and positivity into life. Their enthusiasm for the Vivida movement is contagious and is a driving force for pushing the movement forward and thereby achieving the Vivida vision of improving the quality of peoples' lives.
Kiteboarding
Kitesurf - Self discovery
I am a political science student by day and a kiteboarder by night. Totally falling into the kiting world, learning new tricks and self-discovery. I think Vivida holds the same values of life as I do, living free and loving unconditionally. Live free, live well. Every day should be the best you've had in your life!
Paula Novtoná (Czech Republic)
Pro Kiteboarder - 3rd on World Tour 2018
Kiteboarding - Wakeboarding - Travel
Consistently enthusiastic and spreading the word of Vivida in conversation with whomever he meets when travelling around the world for which Vivida is truly grateful. Has helped run the Vivida stand at the infamous Plastic Playground competitions at the world's best wakeboard park Liquid Leisure.
Kiteboarding - Kitesurf Journalist
Tomasso Vigano (Tarifa, Spain)
Healhy eating - Kitesurfing - Owner of organic healthy food restaurant Power House Tarifa
Kitesurfer & free soul attached to mother nature.
Kiteboarding - Doctor - Travel
Kitesurf - Surf - Elite - Volleyball - Outdoors
Mario Lobaton Gomez (Spain)
Kiteboarding - Nutrition - Fitness
Kiteboarding - Architecture Design
Kitesurfer & doctor.
Always happy to give a helping hand to help with Vivida product ideas, translations, hosting giveaways, giving advice, for which Vivida is very grateful.
Mathias Hofmeister (Switzerland)
Kiteboarding - Travel - Wakeboarding
Pro Kiteboarder on team Vivida Lifestyle Colombia
Noe Borkowski (Argentina/Brazil)
Kitesurf - Surf - Nature - Travel
Julia Castro (Spain/Denmark)
Pro Kiteboarder & Pro Wakeboarder. 2nd place at Triple S Invitationa Kiteboarding Competition in Hood River 2018.
Daniela Echeverria Granja (Mexico)
Piel mexicana, corazón independiente y mente soñadora
Kiteboarding - Free Spirit - Nature lover - Environmentalist - Beach Cleaner - Travel
"Viva la vida, o vivi la vita as I say in italian, it's exactly the way I do interpretate my life. Live my life to the fullest enjoying each moment and be in contact with the nature as much as I can, through the sport."
Kitesurf - videography -
"Sometimes it's about risking everything for a dream no one else can see but you. You have one life to love what you do so grab every opportunity with both hands." - Kitesurf, Wake, Sailing, Windsurf
Nadine Stippler (Germany)
Snowkiting - Kiteboarding
Surf - Kiteboarding - Skate - Vegan - Nature and Ocean lover - Travel
Luchi Luz Amador (Argentina / Mexico)
Yoga Teacher - Spirituality - Mother - Wellness, Healthy Living & Personal Development -
Yoga - Spiritual Self Discovery - Kitesurf
Rasa Iselionyte (Lithuania)
Yoga - Pilates - Fitness - Travel - Kitesurf - Digital Marketing
Yoga - Acro Yoga - Travel - Adventure - Wakesurf - Kiteboarding
Maximilien Daelemans (Belgium)
Rene Van Autreve Kurosawa (Japan/Belgium)
Pro Alpine Skier & Austria National Wakeboarder
Elise Gire (Mexico, Hawaii)
India Bornhoft (United Kingdom)
Windsurf - Windsurf Coaching - Journalist
OUTDOORS / ADVENTURE / Wellness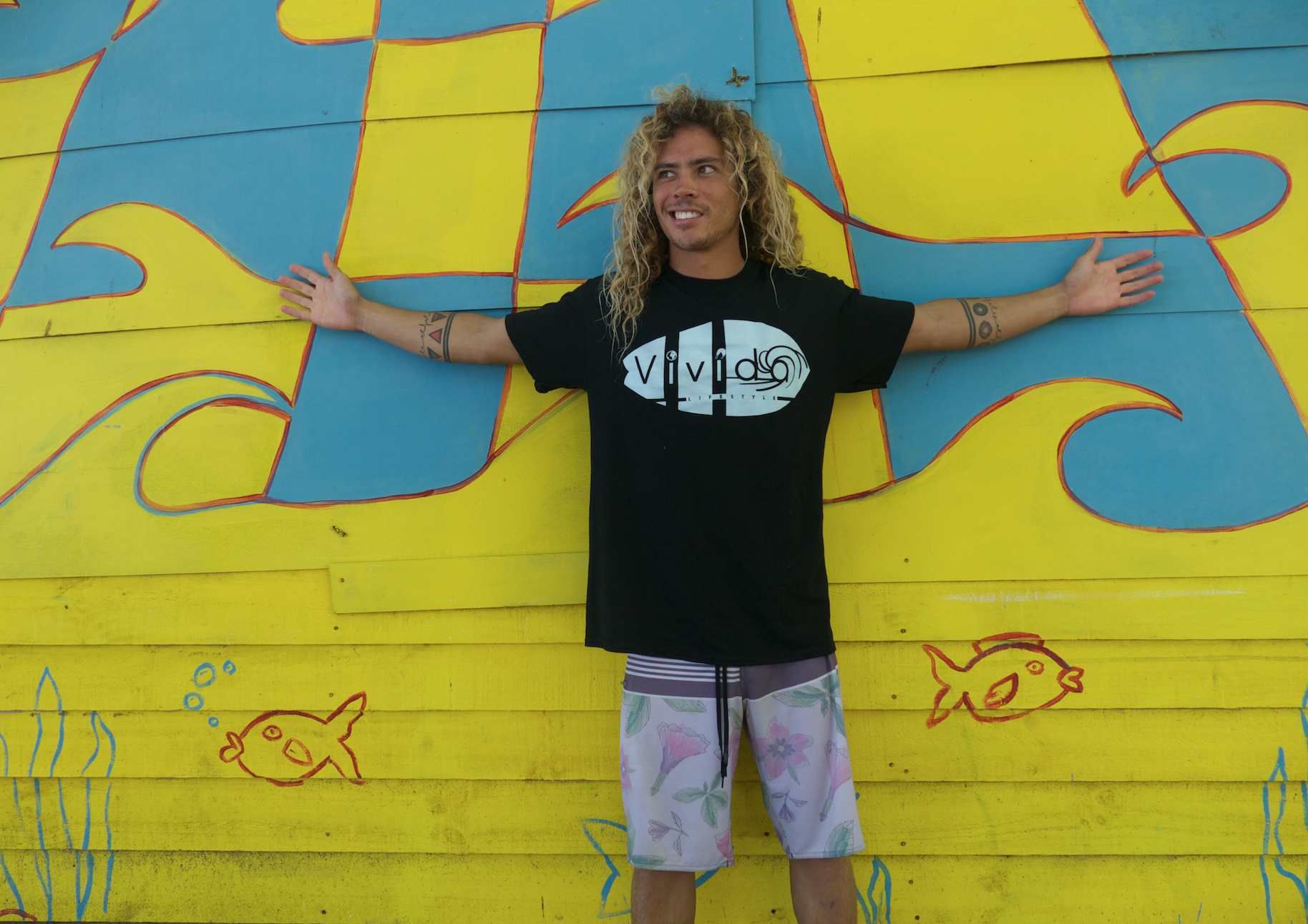 Kitesurf - Surf - Travel - Free Spirit - Spirituality - Yoga - Personal growth
'I am travelling the world, our beloved Pacha Mama, steadily encountering interesting souls in all kind of places: whether the playground is the beach, mountains or in the concrete jungle; the sun is shining or snow is beautifully painting everything white: I will always represent Vivida in a very positive way!'
Tave Wallace (United Kingdom)
Joining the #TeamVivida Tribe as an ambassador
Holding the Vivida Lifestyle flag high
As part of TeamVivida, you embody the Vivida Lifestyle through your demeanour, your values and your outlook. You may be an adventurer; stretching yourself to explore, enjoy and understand the wonderful world we live in. A dreamer; open to possibilities and inspiring positive change through entrepreneurship, health, nutrition, yoga, spirituality....whatever it might be! A thinker; inspiring the community through stories, insight, knowledge, ideas. A doer; proactively pursuing your dreams. Somebody that makes things actually happen! You're somebody that dreams about doing things and goes and does it. You do what you love and you love what you do.
Alongside your skills and vibrant Vivida personality, your ability to promote Vivida through the media is important. An ambassador stands out when he or she really recognises that they have been given this opportunity in return for proactively pushing Vivida forwards. Wearing your gear on the water, up the mountain or on the yoga mat, creating content, representing at events or competitions, hashtagging and mentioning Vivida on social media is key and should be seen as standard procedure (i.e. fundamental).
It has been amazing to see how TeamVivida go above and beyond the fundamentals. Each individual is unique and has their way of doing things, own desires as to how involved they want to be, some will behind the scenes (e.g. as a sales agent, setting up flags and banners at spots around the world or more frontline marketing through content creation and people influencing). Of course every individual is unique, has their story and way of doing things but If a member of TeamVivida is no longer listed above it's probably because they've failed to recognise that is a two-way street and it isn't fair to not open up your space to another Vivida soul out there.
The strongest applications will be considered for being brought on as ambassadors. You become a leader of the community. There's no commitment or contract. Its based on a 'the more you give, the more you receive' philosophy.' The more you give the more you become a significant part to the Vivida wave and from that the more likely you are to find your groove and potentially even dream job within Vivida.
Applications
Fill out the form below in English, Spanish or French. If you want to send extra documents send them to teamvivida@vividalifestyle.com.
Puedes completar la aplicación en español.
Tu peux remplir la formulaire en français.