PURSUING HER PASSION AND EMPOWERING OTHERS ALONG HER JOURNEY.
TEAMVIVIDA PAULA VILLARROEL
Paula Villarroel is our beloved Chilean Kitesurfer that very quickly found her place in the kitesurf community, not only for her previous achievements and experience in the sporting world , but by becoming an inspiration and motivation, representing women that are just starting out their kitesurfing journeys. Paula learned to kitesurf just 4 years ago and now as we write this, at age 40, she is the Chilean Kitesurf and Snowkite National Champion.
Paula's triumphs are far from the only reason so many people have warmed to her so quickly. She has been a strong promoter of getting more women out onto the water and has been a strong activist in creating a community of motivated and independent women within the Chile kitesurfing scene. Paula is a true ambassador of everything the Vivida Lifestyle represents. She couldn't encapsulate the Vivida ethos more and we are so happy that she is the visionary she is within TeamVivida; leading the pack and spreading the Vivida Lifestyle attitude and ethos during every breath she takes. A true inspiration.
We sat down with Paula recently for a short interview so that the Vivida community could get to know her a little more. We hope you enjoy!
Paula, how did you joining TeamVivida come about?
Running into Vivida was one of those magical things that happens in life.
It was the perfect moment, in which stars align and you feel everything in your life makes sense. Choosing what makes you happy and doing it NOW. That warm anxiety you feel when you start your journey at last…That is when Vivida shows up in my path, and I realised that it represents the lifestyle I have and desire.
You're clearly a true water baby, so how do you get by living in the city? So far away from what you love; the water and the beach?
My life in general revolves around Kitesurfing but besides that, I am a Maxillofacial Surgeon and I teach classes in College, so I spend half of the week here and the rest of the time there.
I love teaching, I have surgery students under my wing as well as kitesurfing students, and I think that being able to give someone the tools they can use to develop themselves is a wonderful gift.
What would you consider to be one of your greatest strengths?
Perseverance. I am convinced that it is ALWAYS possible, it only depends on how many times you are willing to try.
And one of your weaknesses?
Being a perfectionist. Demanding too much from myself and others can many times cloud me from seeing all the good things happening around me.
MORE WOMEN IN KITESURFING
"When I started 4 years ago, there were very few women practicing in Chile, it was hard to fill out all the categories on tournaments which ultimately translated into very little recognition of women's categories, due to the low number of competitors", Paula tells us.
"But what I also saw was that there were many really good girls out there, at competition level, only too scared to jump in. I felt there was something missing, something to gather us all together."
What role does the difference in physical makeup of men and women have to play in the current men/women disparity within kitesurfing?
I think that in all sports, men and women have certain characteristics that may benefit them or not. It is true that men can be stronger for example, but women are more flexible, which can be a good asset while kiting.
Why do you think it is, that there are fewer women competing?
I think mostly because women feel scared and bashful. This is exactly what made me start searching for seasoned girls as well as newbies to approach. I wanted to get to know them so that we could start facing together our challenges in kite.
It turned out there were so many of us!
That is how I decided to organize the First Kite Girl Day, a day to sail together, get to know each other, and learn from one another.
Tell us more about your project Kite Girl Day… it sounds like it was the perfect cherry on the cake to you building so successfully the women kitsurf community in Chile
The first Kite Girl Day was in the summer of 2017 in Puclaro, Chile. It turned out so good that we decided to do it again in 2018, this time with Vivida Lifestyle as one of our main sponsors, which helped so much to make this event spectacular.
This year we had 40 participants coming from Chile and Argentina, all ages. We had friendly competitions and a seminar about how to handle fear in extreme sports, dictated by Argentinian pro rider Fer Miller. We also had the Queen of the Air Chile, in which EVERYONE participated. Many of the girls were competing for the first time, and experiencing the competition for the first time was a huge step for them. The most important in my opinion was creating the perfect instance for fellowship and good vibes, and for strengthening us as a community.
We're so proud you took 1st Place in Chile's Kitesurf and Snowkite championships this year. Tell us, how does it feel going into competition?
I love challenges and that is why I love to compete. The adrenaline caused by the anxiety prior to hearing your name out loud, is a feeling that fuels me and motivates me to improve. To give the best of myself and to do it the best way I can is something that comforts me, regardless of the result.
If you had to pick your favourite kitesurf spot?
Los Roques, Venezuela is a destination I will go back to anytime I can. Besides being an amazing spot for kite, it is the most beautiful place I have been to. People also have such a great vibe that it makes you fall in love with it even more.
I think we live in a constant journey, and we must be smart by enjoying it as much as possible, all the way. Not just the destination. Many times we travel in search for the perfect conditions to execute a new move, and if it isn't the way we want it, we get frustrated instead of enjoying the conditions and choosing to work on other things.
The perfect spot is in your head. Sometimes you have it all; the perfect wind, the perfect water, but if you are not having fun you are going to think it was the worse place on earth to be at. To me, the best way to enter the flow is having fun.
For now I am in Brazil on pre-season. Later to go back to Chile and enjoy the summer season, always open to new journeys.
Follow Paula Villarroel on instagram here.
VIDEOS & PHOTOS OF KITEGIRL DAY
PAULA'S TOP 3 VIVIDA PRODUCTS AS OF SEPTEMBER 2018
Surf Bikini Top - Long Sleeved (Caribbean Blue)
Vivida bikinis inspire women from all over the world to live a more confident, adventurous and active lifestyle by offering bikinis that are empowering and enjoyable to wear. Combining supreme functionality with gorgeous free-spirited fashion, Vivida bikinis are perfect for Surf, Kitesurf, Wakeboarding, Swimming, Windsurfing and more!
For the adventurers the dreamers the thinkers and the doers. Vivida is a community. A philosophy. A lifestyle. Making the most of our precious lives.
Wear Vivida. Feel Vivida. Be Vivida.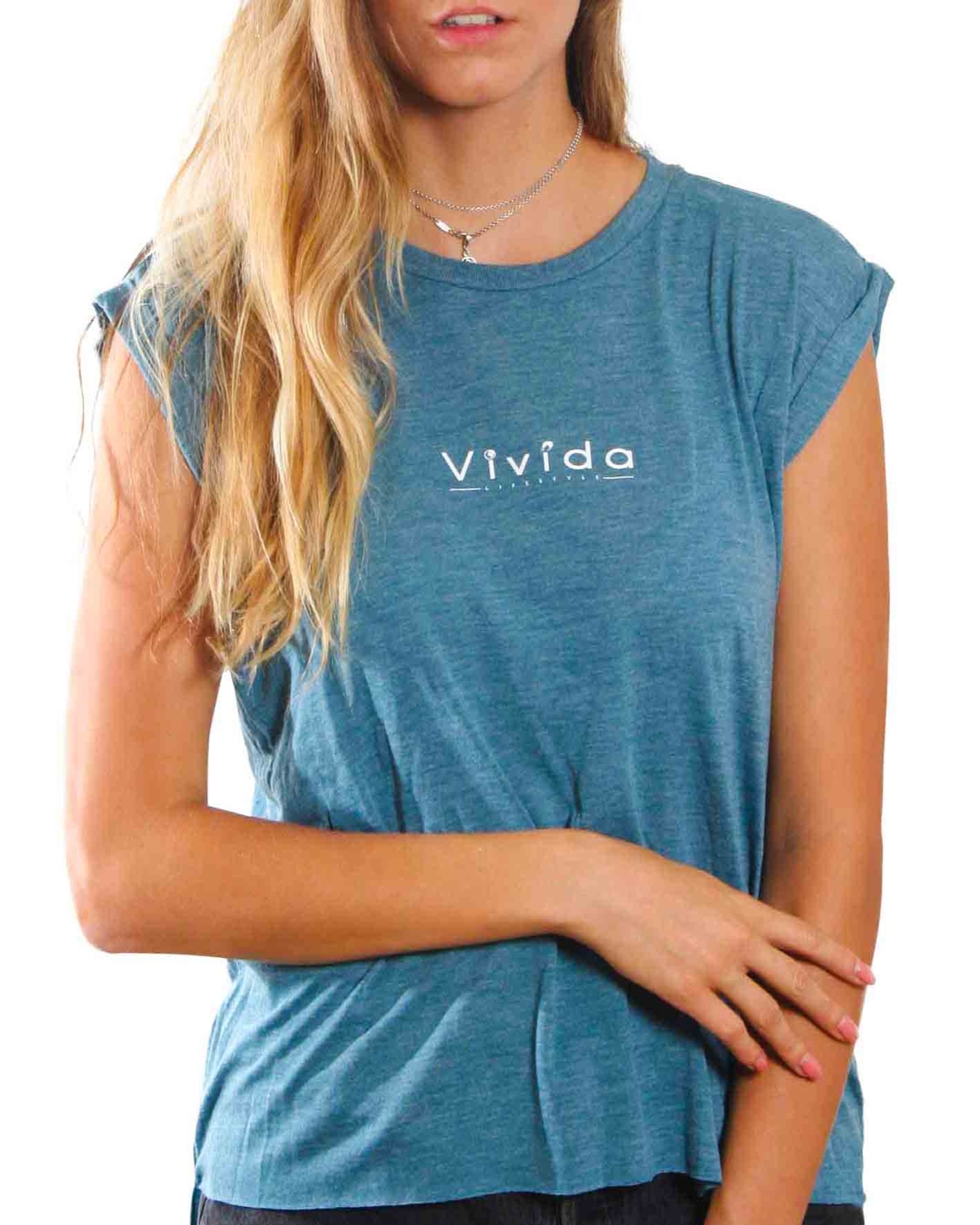 Womens Yoga Flow T-shirt (Teal)
The yoga flow tee is designed to flow with you. Rolled cuffs add an element of style, and a high-low, raw-edge hem gives it a get-it-my-wardrobe-now appeal. Our Womens' range of tees celebrates and encourages feminine hearts to lead lives of beauty, goodness and adventure. As F. S Fitzgerald said: 'The world only exists in your eyes. You can make it as big or as small as you want to.'
Only 14 available
Poncho Towel Changing Robe - Originals - (Pink Anthracite)
Lose the basic towel and grab your new favourite beach accessory. The Original Hooded Poncho Towel offers you a changing robe, towel, and cosy protection from the elements all in one. This "Original" is perfect for surf, kitesurf, wakeboarding, the beach, pool, and more. Built to make your life around water easier, the poncho allows you to change in and out of your bikini, swimsuit, or wetsuit, and towel yourself down in privacy.
In addition to convenience, the absorbent Quickdry microfibre material means it is fast-drying and efficient at absorbing moisture. The unique details make Vivida's poncho towel unrivaled in design and quality. It includes a large kangaroo pocket with smaller inner-zip pouch to safeguard items such as phone, cash, or keys. A discrete quote and 'I Belong to.....' neck label gives each poncho a personalised touch. The roomy cut and full-coverage hood with thick, adjustable drawstrings, also help make it easy to stay warm and cosy, even in unpredictable outdoor conditions. Side splits make it easy to run or walk, plus they are reinforced to ensure nothing rips under tension. Extra easy-access underarm openings let you cuddle your partner, adjust your bikini, or change more discreetly. With lightweight construction and fabric that is both machine-washable and durable, you can look forward to practical comfort wherever you go.